This is a Sponsored post written by me on behalf of ShopYourWay Program. All opinions are 100% mine.
How many of you LOVE shopping?! I know I sure do! What's even better than shopping is getting paid to shop! How can you get paid to shop, you might ask? Well, take a seat because I am about to explain how you can do this.
I recently joined the ShopYourWay Shopper program, which is a social shopping platform designed to help you discover new products with the added ability to share those products with friends, family, neighbors, co-workers, etc. The sign up process for me was very easy and took a total of maybe 5 minutes, if that.
Now, what does all this have to do with getting paid to shop? Simple! By joining the ShopYourWay program you become a personal shopper where you can earn cash when others make qualifying purchases with Sears, Kmart, Lands' End, Sears Outlet, Sears Auto, Sears Home Services, and mygolfer through your page. As a personal shopper you have the ability to choose products that you personally like and would recommend to others and add those products to your catalog. People can then view the products you like, recommend or wish you had and if they want; purchase them.  A 1% reward from those who make qualifying purchases from your catalogs will be rewarded to you. Once a month, a check will be mailed to you, as long as you have earned $20 or more.
Now that you know how it works why not sign up?! Follow these easy steps;
It is very easy and fun to join, simply Request an Invite to ShopYourWay
An email will be sent to you with an invitation
Click the link in the email
Follow the easy steps that will allow you to design your own ShopYourWay site.
Once you have completed everything you should see the below image: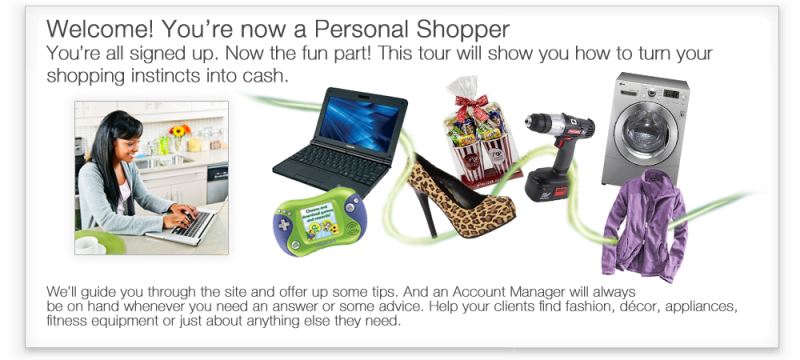 Once your site is set up you can start shopping for products you like and essentially create a catalog of items. There are three types of catalogs already made that you can add products to:
Things I Like
My Things
My wishlist
Or you can create your own catalog
Once you have added items to your catalogs your friends, family, clients, co-workers, etc. can start shopping from them! My Birthday is coming up next month and so many people keep asking me what I want. I always have a hard time coming up with things I want so I think this will be a great way for my family and friends to see what I like and purchase something from there.  Want to see what my catalogs look like so far? Click HERE to what i have added so far!
Still not convinced to join this awesome program? How does a giveaway incentive sound?
I will be holding a GIVEAWAY  for a $50 Sears Gift Card!!
How to enter:
Simply 

Join the ShopYourWay Program and start browsing! Leave a comment on this blog post with a link to an item from your personal ShopYourWay homepage that you think I may like OR 

tweet with the hastag #personalshopper and my twitter handle @kSquaredGlamour. 

 
**YOU MUST leave your email address in the comments below with your link in order to be eligible to win**
official rules (IZEA) IZEA will select the winner at random